Keynote 1 - Histories of Disability
Susan Burch
"Telling Disability Stories: Legacies, Imagination, Coalitions"
Disability historians play a critical role in telling and retelling stories of the past. Centering on the lived experiences of disabled people, this keynote raises questions that reflect the complex, messy process of recalling the past and of repopulating it. Disability scholars must grapple with the intimacy and vulnerability of forced institutionalizations and other violent medical interventions, of daily life, of community formations, and of activism—to name just a few themes in global disability history. For many reasons, the stories told by asylum administrators, medical professionals, and policymakers often shout louder than the versions disabled people might tell. This encourages many disability historians, then, to seek and tell disability histories, reinterpreting traditional sources and accounts, and using new and different primary sources. The disability historian's work in retrieving disability stories may stir questions of privacy and shame, but may also preserve the everyday acts of solidarity and creativity that continue to inform disability cultures. Examples of this abound, from emerging oral history projects and asylum cemetery reclamation efforts, to creating accessible archives and addressing racism and homophobia in our disability rights campaigns. Our work in global disability history ultimately may restructure knowledge itself--in form, content, and interpretation.
Dr. Susan Burch is Director of the Program in American Studies and a former director of the Center for the Comparative Study of Race and Ethnicity at Middlebury College in Vermont (USA). Her research and teaching interests focus on the overlaps of deaf, disability, race, indigeneity, gender, and sexuality in late nineteenth- and twentieth-century U.S. history. She is the author of Signs of Resistance: American Deaf Cultural History, 1900 to 1942 (2002) and a coauthor, with Hannah Joyner, of Unspeakable: The Story of Junius Wilson (2007). Susan's coedited anthologies include Women and Deafness: Double Visions (2006), Deaf and Disability Studies: Interdisciplinary Perspectives (2010), and Disability Histories (2014). She also served as editor-in-chief of The Encyclopedia of American Disability History (2009). In addition to serving as a research associate at the Smithsonian National Museum of American History in Washington, DC, Susan has taught at Gallaudet University (US), King's College (University of Aberdeen, Scotland), Charles University (Prague, Czech Republic) and the Ohio State University (US). Her work has received various awards and honors from the National Endowment for the Humanities, National Archives, Mellon Foundation, Fulbright Foundation, and the American Council of Learned Societies. Susan is a cofounder and board member of the Disability History Association and has served on the Society for Disability Studies' board of directors.
Keynote 2 - Practices of Disability
Michael Schillmeier
"The Cosmopolitics of Dis/ability Experience - A Manifesto"
Dis/ability experience can neither be reduced to a mere bodily/mental impairment nor understood in separation from it as a mere societal phenomena. Rather, people with disabilities can be understood as cosmo-political actors that disrupt, question and alter the very understanding of what is seen as human bodies and minds, what is maintained, expected and performed as taken for granted, embodied and materialised social orderings. Drawing on empirical work about dementia and people with visual disabilities this lecture suggests a conceptual framework of disability beyond the split between social and biomedical accounts.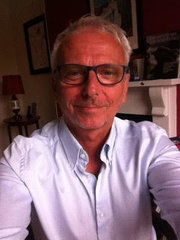 Michael Schillmeier is professor of Sociology at the Department of Sociology, Philosophy and Anthropology at the University of Exeter/UK. He received his PhD from Lancaster University/UK and his diploma from LMU Munich. He has widely written on the eventful dynamics of the heterogeneity of societal orderings, outlining the relevance of embodied, sensory and affective relations, objects and technologies. His research includes Science and Technology Studies, Dis/ability Studies and the Sociology of Health and Illness. His work is cross-disciplinary and links Sociology with Philosophy, Anthropology and Art. Publications include "Un/knowing Bodies" with Joanna Latimer (Wiley-Blackwell), "New Technologies and Emerging Spaces of Care" with Miquel Domenech (Ashgate), "Eventful Bodies – The Cosmopolitics of Illness" (Ashgate), "Rethinking Disability: Bodies, Senses and Things" (Routledge), "Disability in German Literature, Film, and Theater" with Eleoma Joshua (Camden House) and "Agency without Actors – New Approaches to Collective Action" with Jan-Henrick Passoth and Birgit Peuker (Routledge).
Keynote 3 - Policies of Disability
Mark Priestley
"From Compensation to Equality? Reflections on National Disability Policies in a Changing Europe and in Transnational Fields"
Disability presents a global challenge to social justice and human rights. The barriers to disabled people's full participation and equality in society have been acknowledged in international law but policy responses vary greatly between different countries and regions of the world. This paper charts and conceptualises the evolution of disability equality, defining disability as a policy field and evidencing how national and transnational factors influence its development. It examines disability equality as a policy project, emergent over the past half century and in the decade since the establishment of the United Nations Convention on the Rights of Persons with Disabilities (CRPD) as a global policy framework. It considers legislative structures, policy processes and outcomes for disabled people in Europe – linking global, European and national developments. In the context of European welfare states, disability equality provides a stimulus to re-think our assumptions about multi-level governance, the Europeanization of public policies, and about theories of national policy regimes.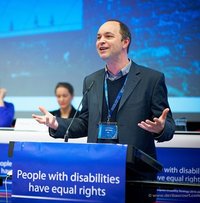 Mark Priestley is Professor of Disability Policy in the School of Sociology and Social Policy at the University of Leeds. He established and has led the European Commission's Academic Network of European Disability experts (ANED), directing its research programme across 35 countries for the past decade. He is currently engaged in analysing and writing about this work for publication. His research interests include international and comparative perspectives on (European disability) public policy, issues of the policy process, (international human rights policies) monitoring and governance, realizing rights, the disabled people's movement, and mixed/comparative methods. Website: https://essl.leeds.ac.uk/sociology/staff/47/professor-mark-priestleyhttps
Keynote 4 - ALTER Young Author Prize Winner
Marie Sépulchre
"Ensuring citizenship for disabled people: A matter of rights or a matter of costs?"
In contrast to recent history, many governments around the world have today formally recognised disabled people as equal citizens. However, disabled people often remain de facto second-class citizens because they cannot enjoy their rights on an equal basis with others. The lack of implementation of disabled people's rights is often justified on the grounds that they are 'too costly'. I believe that disability research therefore needs to ask: What exactly is at stake? This paper proposes that the written claims of disability activists offer a rich empirical material to unpack the complexity of the issue of costs in disability politics.
Drawing on citizenship theory, this paper starts with the observation that the issue of costs is salient in the development of the citizenship rights of any group of individuals in a given socio-economic context. It then calls attention to the role of activism in the development of citizenship rights and underlines the activists' need to navigate various dilemmas, including the recognition-redistribution dilemma.
Focusing on the case of Sweden, this paper examines blogposts and debate articles (n=474) written by a wide range of Swedish disability activists. Three different ways of considering costs in disability politics are discussed, as the analysis shows that the disability activists embrace, criticise and reframe the issue of costs in disability politics.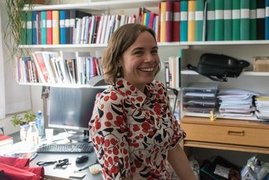 Marie Sépulchre is a researcher at the Department of Sociology at Uppsala University, Sweden. Her research interests centre on citizenship, disability, activism and structural inequalities. Marie's work has been published in international peer-reviewed journals such as Alter – European Journal of Disability Research, the Scandinavian Journal of Disability Research, Disability and Rehabilitation, and Disability and Society. She recently completed her PhD at Uppsala University, with a dissertation entitled: This is not Citizenship. Analysing the Claims of Disability Activists in Sweden. http://katalog.uu.se/profile/?id=N13-1402